In the world of handcrafted textiles, Neeru Kumar is a rare and inspired talent who has,over the past two decades, pioneered something of a revolution in Indian textiles. Using traditional techniques and indigenous materials, but with constant experimentation and research, Neeru has created a whole new vocabulary in textile design. The combination of her unique sensibility in tone and texture, with her profound knowledge of the weaving process and other hand techniques has made such innovation possible. Through her prodigious output she has generated an exciting, original and very contemporary design palette, while supporting the craft sector and pushing forward the frontiers of the traditional skills on which her work is based. Sustainability, recycling and the use of eco-friendly materials, which have typically characterised traditional techniques, are integral to the production processes of the brand.
Neeru Kumar's range of products is marketed through TAL, RAGA DESIGNS, TULSI. There is also her signature brand, NEERU KUMAR.
The repertoire of products includes Home Textiles and Clothing.
In Home Textiles are hand woven upholstery fabrics, bedcovers, jacquard throws, cushion covers, fabrics for drapes and woven wall art. One range of home textiles includes decorative pillows, throws, bedcovers, quilts, drapes, which are made using hand-guided machine embroideries and other hand-stitching techniques.
In Clothing there are various lines, some of which are sold in exclusive boutiques around the world. These are what may be described as 'contemporary classic' – forms and textures that are comfortable and elegant, not fashion driven but distinctive and timeless.
A range of accessories, including shawls, scarves and bags, sensitively complement the clothing line. A unique range of coats and jackets made of specially designed fabrics and vintage textiles also form part of the collection.
HAND WEAVING
The breakthrough for the brand was a textile piece created by Neeru Kumar in the late 1980s for the Festival of India. The very graphic design was enhanced by the use of tassar silk in two contrasting colours, black and natural tassar. The design found immediate and worldwide appeal. Named 'First Design', this textile marked the beginning of the brand.
IKAT
A lot of work has been done on Ikat - the traditional tie and dye weaving technique - in Orissa and in Andhra Pradesh. Simple and minimalistic designs were developed with new colour combinations to produce distinctive and very contemporary saris and yardage.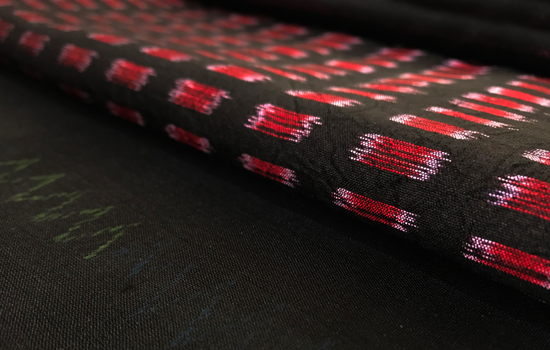 KHADI
Since the 1990s much work has been done with Khadi, developing new textures and colours,for use in both home textile and clothing collections.
Gudhari
Neeru Kumar has been a pioneer in Gudhari textiles – hand stitched quilts made by recycling old saris. She discovered these in 1995, understood the potential of the aesthetic and was instrumental in exposing the craft to the world.
Kantha Shawls
A passionate collector of vintage saris and other textiles, Neeru Kumar faced the problem of their deterioration over time. Many exquisite textiles were falling apart. The solution was to patch the textiles and line them with another fabric. These were then hand stitched using the kantha technique. The result was a beautiful shawl that had its own identity, and a new life. These Kantha shawls proved enormously popular. The concept was taken up by many other entrepreneurs and for years now has provided livelihood opportunities for thousands of women.
Kantha
Innumerable experiments have been done in layering, patching and hand quilting of cloth, using the running stitch, for many different end uses.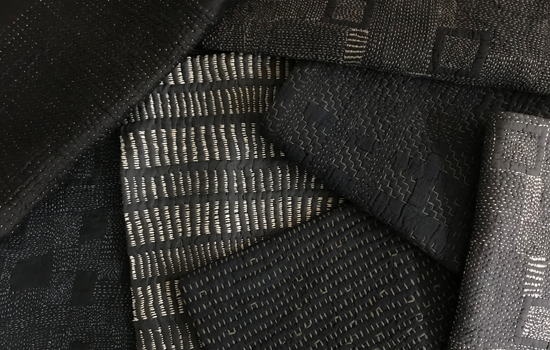 Shibori
Endless explorations are being done to create beautiful textiles for scarves and clothing.The use of colour is what makes them outstanding.
Vegetable Dyes
The process of natural dyeing is always a part of the processes used for scarves and clothing wherever necessary.